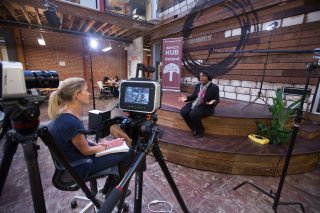 The Silicon Valley wisdom says that software is eating the world. However, in major US companies women are not working on software. Facebook reports 15% of its technical workforce being female, Twitter 10% and the US national avarage is around 23%. This is known as the gender gab in technology fields. It is widely discussed both in US media and pops up every now and then in Finnish media as well.
To start to consider this problem as a crown and highlighting it's importance, we organize a film screening of "Debugging the Gender Gap" in Helsinki. They short storyline of the film is
Tech jobs are growing three times faster than our colleges are producing computer science graduates. By 2020, there will be one million unfilled software engineering jobs in the USA. Through compelling interviews, artistic animation and clever flashpoints in popular culture, CODE documentary examines the reasons why more girls and people of color are not seeking opportunities in computer science and explores how cultural mindsets, stereotypes, educational hurdles and sexism all play roles in this national crisis. Expert voices from the worlds of tech, psychology, science, and education are intercut with inspiring stories of women who are engaged in the fight to challenge complacency in the tech industry and have their voices heard. CODE aims to inspire change in mindsets, in the educational system, in startup culture and in the way women see themselves in the field of coding
The film has also been reviewed e.g. in IEEE Spectrum. The screen is followed with a discussion around this theme, iwith members from the industry, the academia and students themselves reflecting their experiences.
Movie screening details
When: Monday May 16th around 16
Where: Helsinki city center
How do I join: We have limited number of seats available, kindly register in Eventbrite.
---
Last updated on 29 Apr 2016 by Matti Nelimarkka - Page created on 29 Apr 2016 by Matti Nelimarkka