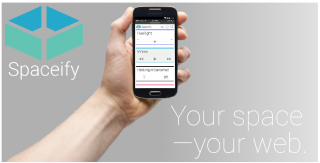 The aim of Spaceify is to commercialise solutions that provide immediate interaction with smart spaces through web technologies. The core of the solution is a client-edge-server ecosystem that seamlessly integrates physical spaces with the web. Spaceify can give web apps controlled access to resources such as big screens, sensors and lighting in the space.
These solutions can provide benefit in a variety of settings in retail, exhibitions, meeting rooms, museums, and education. For example, Spaceify to turn passive advertising screens into a social games platform, where the audience can interact with the advertisements using their smart phones.
The startup originates from the Network Society Program at HIIT, from research carried out starting in 2012 in the TEKES FiDiPro project with Professor Sumi Helal,University of Florida, "Smart Spaces: Critical Software Enablers for Real-World Deployments".
The founding of Spaceify Oy is an example of long-term strategic research resulting in an impact beyond academic results. The open-sourced Spaceify smart space ecosystem the company aims to commercialise, is still under active development in the EIT Digital Street Smart Retail High Impact Initiative. (http://www.spaceify.org/)
From the NS program, key persons include: Petri Savolainen, Kai Kuikkaniemi, Max Vilkki, Jouni Ojala, Sasu Tarkoma, Jouni Vepsäläinen, Giulio Jacucci, Sumi Helal, and Marko Turpeinen.
---
Last updated on 8 Feb 2016 by Giulio Jacucci - Page created on 8 Feb 2016 by Giulio Jacucci