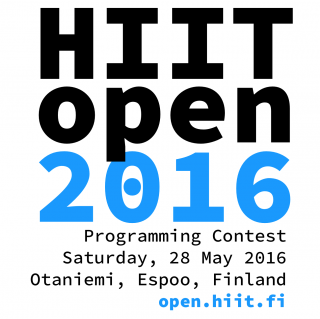 Can you solve algorithmic programming challenges, efficiently and correctly, in practice, as a team, under time pressure?
Highlights:
open to everyone
for teams of up to 3 members
5 hours time
about 10 algorithmic programming challenges to solve
Rules:
The contest is open to everyone, including university students, high-school students, and teams from companies.
We will mostly follow the same rules as in the NCPC. In brief:
each team has 1–3 members
you can bring any written material with you, but no electronic material
you can only use the computers, programming environments, and online documentation provided by the organisers
there is only one computer per team
printing is possible
no internet access, no web browsing, no email, no chat, no mobile phones, etc.
At least C, C++, and Java will be supported.
About the event open.hiit.fi
Contact person: Jukka Suomela
---
Last updated on 6 Apr 2016 by Noora Suominen de Rios - Page created on 3 Mar 2016 by Maria Lindqvist