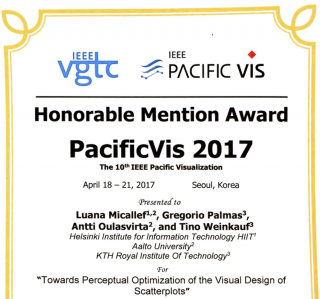 Perceptual Optimization of the Visual Design of Scatterplots
HIIT, Aalto and KTH researchers have recently found an algorithmic approach to automatically improve the design of scatterplots by exploiting models and measures of human perception.
Their work has received a best paper honorable mention award at IEEE PacificVis 2017.
See press release and project webpage.

---
Last updated on 1 May 2017 by Luana Micallef - Page created on 24 Apr 2017 by Luana Micallef